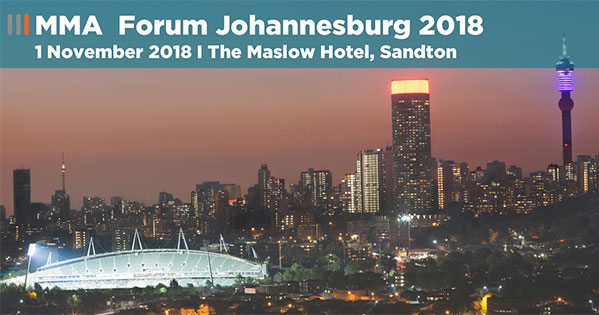 MMA SA Forum 2018 "ACCELERATE: Mobile Marketing's Future"
The 2018 MMA SA's Forum looks to the future: what are the big drivers that will shape our industry, how does AI affect what we do, when do we look through a design lens?

We discuss it all. We live in a world of constant and aggressive change.

Consumers have more power than ever and it's up to us as marketers to engage them in a meaningful and relevant way.
We must think like our customers – across every touchpoint.

Ask yourself, "How do they experience your brand and business?" This is an essential tool in an extremely competitive and mobile centric environment.

How ready are you? The MMA can help accelerate your readiness.

Our speakers are experts in their specialist fields.

We have 4 international guests and 9 local thought leaders.

They take us through projections, reflections and key learnings – all to guide us into 2019 armed with insight and intelligence.
All MMA SA Forum delegates will each receive their complimentary copy of the MMA SA 2018 Brand Safety Report as well as the Smarties Judges Insights guide.

Don't miss out! For more information please email mailto:sarah.utermark@mmaglobal.com